Sorry, this page requires Javascript. Please enable the Javascript in your browser and refresh this page.

Information for Teachers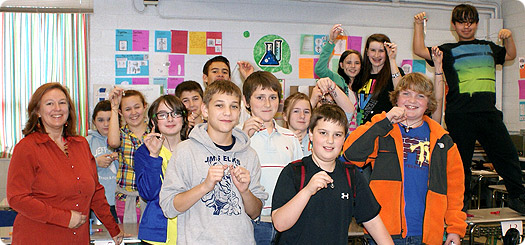 Tomorrow's scientists are in today's classrooms
As the pace of scientific discovery and innovation continues to quicken, we believe the biotechnology industry should play an integral role in supporting science education, partnering with teachers and schools to combine skills and expertise to help today's students develop into tomorrow's scientists, problem solvers, and stewards of the environment. The Bio-Rad Science Ambassador Program exists to build these partnerships — facilitating dialog between volunteer scientists and teachers and providing the resources to create meaningful and enjoyable science education experiences for students.
Turn your classroom into a laboratory
When you host a Science Ambassador event in your classroom, you'll be introducing your students to a professional scientist who applies the scientific principles you teach in a research laboratory environment every day. Volunteer scientists demonstrate the real-life experimental methods used in the lab, then guide students to use those methods to perform their own biotech experiment.
Universal principles
—

customized for your class

The main focus of a Science Ambassador classroom event is a DNA extraction experiment. The complexity of the experiment can be tailored for students ranging from grades 3–12. The age range is intentionally wide because the activity isn't just about the experiment — it's also about sharing the many wonders of science with young people, building their confidence, and inspiring further exploration into science. Besides, science can be fun for students of any age.
It's easy to get involved
We provide the materials and the volunteer scientist. Teachers are responsible for scheduling the event and working in partnership with your scientist for integrating the experiment into current course or lesson plans. We make the entire process easy so together we make science education rewarding and constructive for kids.
Register with the Science Ambassador Program now to get started.
Sign Up Now
FAQ
Browse answers to some of the more common questions from other teachers.
Tools
Find useful files available for download.

"I strongly recommend the Bio-Rad Science Ambassador Program to any teacher that is looking for a way to introduce biotechnology into their class at any level."
Matthew, High School Teacher