Sorry, this page requires Javascript. Please enable the Javascript in your browser and refresh this page.

About the Classroom Event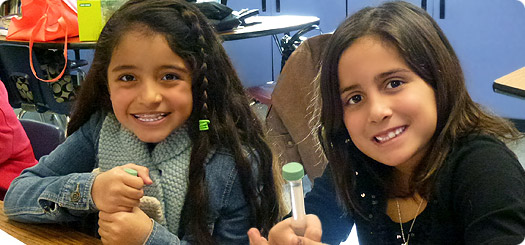 Learning experimental procedures
You can organize your event in any manner you and your volunteer scientist choose, but we recommend dividing the period into four sections.
A short introduction to the theory of DNA, genes, or extraction principles (depending on the grade level of your class)
An overview by the volunteer scientist of the Genes in a Bottle™ DNA extraction kit and the science behind it
The majority of the time should be allotted to students performing the experiment for themselves, with guidance from both you and your volunteer scientist
A short discussion with the class about the experiment, their thoughts on science, and collecting feedback on what they liked, what challenged them, and any new insights they gained
It might also be good to document the experiment with photos and comments from the students. Please follow your school's parental approval policy when sending or posting those photos online
The Genes in a Bottle
™

kit

Your volunteer scientist will use a the Genes in a Bottle kit to demonstrate the DNA extraction process (cell collection, lysis/proteolysis, and DNA precipitation). They'll explain the science behind each step, and teach your class the proper lab methods to use to ensure a clean result as shown in the short video demonstration below.

The final step is the most fun. Students can transform their vial of precipitated DNA into a pendant they can wear and share with friends and family. They'll also get a souvenir "I Love Your DNA" temporary tattoo.
No-stress preparation
The Science Ambassador will bring the Genes in a Bottle kit — the only thing you need to do in advance is prepare space to perform the experiment and assemble the few additional materials needed (alcohol, markers, and cups).
Find more information in FAQ and Resources, or if you're ready to get started, register with the Science Ambassador Program now.
Bio-Rad Science Ambassador Video
Sign Up Now
FAQ
Browse answers to some of the more common questions from other teachers.
Tools
Find useful files available for download.

"It was cool to see the building blocks of me! We had learned about DNA, and it was cool to actually see what we were talking about. To me it's easier to learn that way."
Lauren, Student