Sorry, this page requires Javascript. Please enable the Javascript in your browser and refresh this page.

Volunteering as a Science Ambassador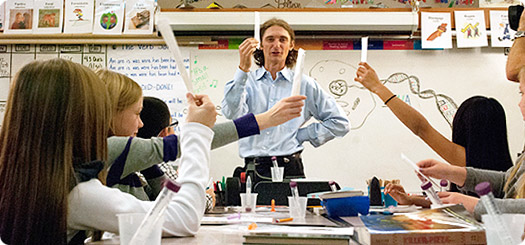 Become an ambassador to the educational community
When you volunteer to be a Bio-Rad Science Ambassador, you become an advocate for science education and inspire our next generation of scientists. Leading an activity takes very little time and has a big impact on student interest and involvement with life sciences. Best of all, children and scientists agree that the Science Ambassador event is just about the most fun they've ever had in school.
Guide students through a real science experiment
The Science Ambassador classroom session teaches kids real scientific techniques, building up their confidence in their own scientific potential while making it very clear just how exciting science can be.
You'll lead them step-by-step as they perform a DNA extraction experiment using their own cheek cells. We'll provide the experimental materials, clear instructions, and resources for you to easily lead the exercise and connect with the kids.
It's easy to get involved
Being a Science Ambassador is easy. Whether it's matching you up with a local teacher or providing you with turnkey experimental materials for each student, we take care of almost all the logistics — so the time you invest is with the students instead of event management.
Make an impact. Share your passion. Empower students. Register as a Science Ambassador in your community .
Sign Up Now
FAQ
Browse answers to some of the more common questions from other scientists.
Tools
Find useful files available for download.

"The experience was truly rewarding, as the students and teachers both were very engaged. This is a great program
—

thank you Science Ambassadors!"

Tsokyi,
Bio-Rad Science Ambassador