Sorry, this page requires Javascript. Please enable the Javascript in your browser and refresh this page.

Science Ambassadors in the Classroom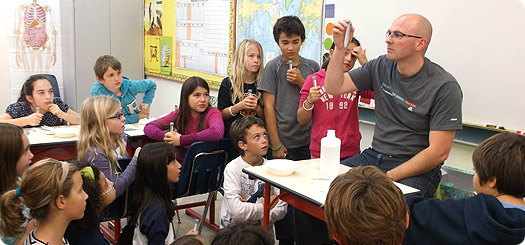 About the event
Your participation as a Science Ambassador will place you in a classroom setting (grades 3–12) and will last about an hour. You'll demonstrate an exciting DNA extraction experiment for students, and then guide them through the steps to perform the same experiment on their own.
We provide the materials. You provide the leadership. The students provide the grateful smiles and laughter.
Genes in a Bottle
™

kit

Each Science Ambassador will receive a prepackaged Bio-Rad Genes in a Bottle DNA extraction kit with all the materials needed for 36 students to perform the experiment. You'll walk them through the steps of cheek cell collection, cell lysis/proteolysis, and DNA precipitation. Then the best part: after students successfully precipitate their own DNA, their sample container can be converted into a necklace they can wear and show to friends and family.
No-stress preparation
We want you to enjoy your time exploring biotechnology with students and not stress about event planning. You'll receive everything you need beforehand — just bring the materials to the school and get started. Your Ambassador kit will include:
Genes in a Bottle kit with supplies for a class of 36 students
Necklace modules
USB thumb drive with helpful documents (also downloadable from the link at the right)
"I Love Your DNA" temporary tattoos
Activity quick start guide
A Science Ambassador tote bag that holds all the above
A Science Ambassador T-shirt for you
Additional materials that are needed but are not supplied in the kit include alcohol (91% isopropanol or 95% ethanol), marking pens, and small paper cups.
Downloadable tools
Bio-Rad Science Ambassador Video
Sign Up Now
FAQ
Browse answers to some of the more common questions from other scientists.
Tools
Find useful files available for download.

"What I liked about the activity was that I got to sit down and work with a professional scientist."
Domonique, Student