Sorry, this page requires Javascript. Please enable the Javascript in your browser and refresh this page.

News & Information
Bio-Rad Science Ambassadors help students capture their own DNA right before their eyes at the 2014 USA Science and Engineering Festival in April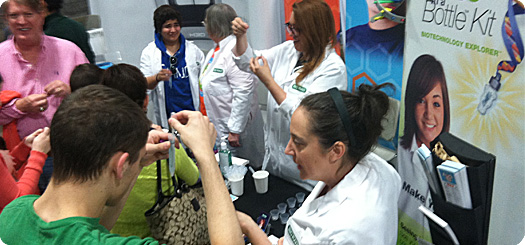 05/28/2014
The Bio-Rad Science Ambassador program was a huge hit at the USA Science and Engineering Festival, held at the Walter E. Washington Convention Center, Washington, D.C., in April. The festival, in its third year, is the largest science, technology, engineering, and mathematics expo held in the U.S.
Volunteers at Bio-Rad's "What Makes You YOU!" exhibit guided more than 1,000 students through a high-energy DNA extraction experiment. Working hard but smiling wide, volunteers helped the students precipitate their own DNA right before their eyes!
This year's festival attracted more than 325,000 participants, making it the largest STEM-oriented festival in the U.S. "Sneak Peek Friday" alone brought in more than 40,000 students, teachers, military families, government officials, as well as members of the media.
The festival hit its stride over the weekend, bringing in roughly 140,000 attendees each day, including scientists, parents, and students.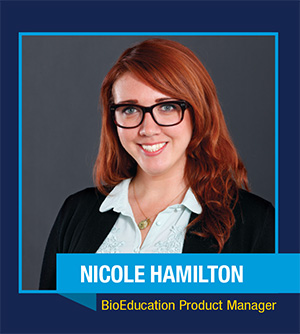 The secret to the festival's success was its vast number of science shows, discussions, and exhibits featuring presentations by leaders in a variety of fields including robotics, genomics, medicine, advanced manufacturing, and 3-D printing.
"The Expo was great fun!" — Science Ambassador Nicole Hamilton
"It was amazing to see people of all ages showing up to think, see, and touch all things about science and engineering," said Science Ambassador Nicole Hamilton. "Exhibitors shared an incredibly diverse display of scientific jobs, hobbies, and just plain curiosities with attendees. The creative juices were flowing all weekend — there's no doubt in my mind that the next Marie Curie or Linus Pauling was at that convention," said BioEd product manager Nicole Hamilton.
"With such a high volume of people coming through the exhibition area, Bio-Rad was fortunate to have such a dynamic, energetic team of volunteers helping us get the kids excited about science. Despite the hard work, our Science Ambassadors enjoyed themselves as much as the attendees," she said.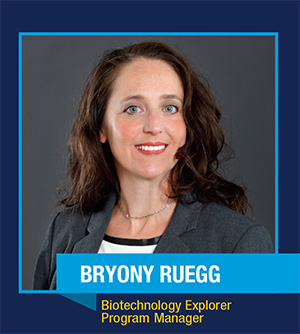 "Working as a Science Ambassador was incredibly exciting, exhilarating, exhausting, and fun!" — Bio-Rad scientist Bryony Ruegg
"I was buzzed all day with the enthusiasm of the kids," said Bio-Rad scientist Bryony Ruegg. "My favorite was a boy named Liam who asked me about 100 science questions, as if I were a walking science encyclopedia! There's nothing more rewarding than watching a student get turned on to science in such a dramatic way — my smile was ear to ear," she said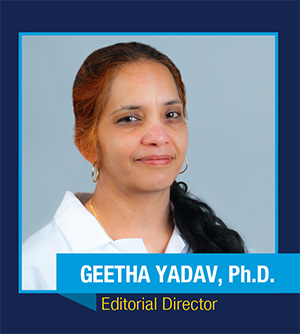 "Seeing their perseverance and genuine interest to learn really validated why we're doing this. Their questions were genuinely impressive and made it exciting to share my knowledge with them." — Science Ambassador Geetha Yadav
Science Ambassador Geetha Yadav said she was particularly impressed with the intellect of the students who participated in the "What Makes You YOU!" experience. "They asked lots of questions and were incredibly enthusiastic," she said.
"While we reached over 1,000 kids this year, we could have reached many more with additional volunteers sharing the passion of our incredibly energetic group. In the words of Cathy Johnson, Science Ambassador from the Association of Public Health Laboratories, who brought our youngest-ever volunteer, her grandson Nate, 'It's important for every scientist to see the science that takes place all around us, not just in a test tube or laboratory, but experiencing the science of humanity, too.'"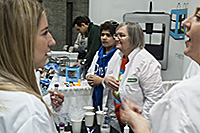 "We all can be scientists if we want to," Cathy said. "And the best time to learn that is at a young age. Participating in the Science Ambassador program empowers students and makes them believe in their own scientific gifts. But it makes us better scientists as well, reminding us why we chose our professions and reinvigorating our creativity and research," she added.
All of the volunteers found the experience rewarding in their own unique ways, and we know that as a scientist, you'll share their passion too if you become a Bio-Rad Science Ambassador.
Not every Science Ambassador opportunity is as large scale as the USA Science and Engineering Festival, but volunteering at a local school lets you touch the hearts and minds of students in a very personal way. And those hearts and minds are very big things indeed!