Sorry, this page requires Javascript. Please enable the Javascript in your browser and refresh this page.

News & Information
Bio-Rad Science Ambassador Program Reaches Students in Canada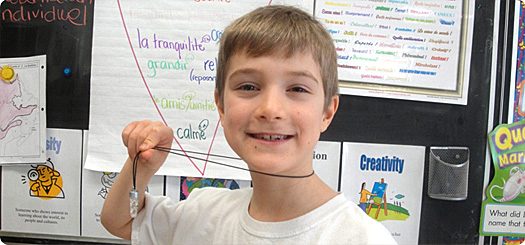 A student at Children's World Academy proudly shows off his DNA necklace
05/06/2013
As anticipated, scientists and teachers in Canada are sharing their passion for science and getting involved in the Bio-Rad Science Ambassador Program. Currently, there are volunteer scientists and interested teachers in six out of seven provinces along the border between the United States and Canada.
A successful classroom event was recently held for third and sixth graders at Children's World Academy in LaSalle, Quebec. According to Science Ambassador Lori Jerome, "The DNA extraction itself was 100% successful! The students were proud to wear their necklaces at school and shared their enthusiasm with their peers. This was a great opportunity for the students and for me as a volunteer."
About the Bio-Rad Science Ambassador Program
The Bio-Rad Science Ambassador Program was developed to empower scientists who work outside the educational community to engage directly with community schools, contributing their talent and leadership to inspire young people's interest in science. Scientists are passionate about their work, and this tool lets them share that passion with students to get them excited about science education and consider pursuing scientific careers.
Bio-Rad helps match teachers with scientist volunteers, facilitates the scheduling of the visit, and provides the resources and supplies necessary to conduct a successful activity. At present, the program is available to scientists and teachers in the U.S. and Canada.